Rhian made her way back to her chair once more. She'd spent the last bit of study time sprawled out on the rug by the fire, but the stone floor underneath was making her joins cramp a bit. Some time sitting like a normal person couldn't hurt.

Just as she was bending to get her book, she heard the portrait open. Checking her watch, her eyebrow rose at the late hour. She should probably say something to the student, as a Prefect, but she couldn't bring herself to care right now. Too many hours in her books had taken that away. Besides, it was her night off.

"Hey," she offered the boy, smiling warmly at him. She was still a bit fuzzy on names now and then, if they weren't in classes together. Since getting the position, she'd tried to learn as many as possible, but some of the less social of her house were hard to nail down.

"Just studying my brains out for N.E.W.T.S. What are you doing up so late?" Tucking her notes into the book, she closed the cover, happy for the bit of distraction. Nestling further into the cushions of the plush chair, she rested her head against one of the wing-back sides. "I'm sorry, I don't quite remember you're name. I'm Rhian."
_________________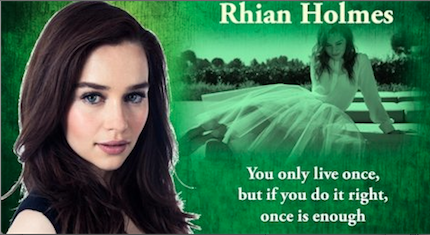 Spoiler: