With black sunglasses on her face, Marie walked through the streets of Hogsmeade. She absolutely hated this place, the children were so loud and annoying and all of them victims of fashion. But she supposed it was a worthy cause. She was meeting with her granddaughter this evening and she couldn't help but feel some sort of joy. She was never fond of the whole idea of showing love, but the fact that her son managed to have a daughter was enough for her to go to Hogsmeade and leave the comfort of Paris to visit her.
Her attention was caught by the magazine stand and she walked towards it, removing her glasses to pay attention. Picking up the magazine she smirked realizing that it was so flattering. She looked good, if she said so herself.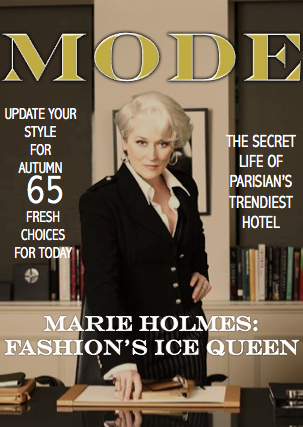 She definitely aged very well, and she studied all her fashion choices in the shoot. Her office looked in tip top shape, as well as her outfit, very chic. She took out her wallet and paid for her own magazine, to keep studying it in case her granddaughter was late. Walking towards the exclusive diner, she walked in and immediately asked for a private table as she waited for her little Tess.
Flittering through the magazine, she looked at the glossy pages, as well as the models who she hand-picked. Hearing the clicking of heels, she lifted her gaze, and smirked as her young granddaughter was there. her hair up in a pinup look curling softly down her shoulders. Her pale skin was enough for her to see that she was a definite beauty, even if the girl herself didn't. Oh she could definitely see herself in the young girl, especially as she walked over and kissed both of her cheeks delicately.
"Good afternoon grand-mère, how has your day been?"
the young girl said.
"Good morning Tess Marie, please sit down and join me, my love"
Tess smiled softly and sat in front of her asking for coffee immediately. The girl was so delicate in her moves and Marie was very happy about it. She was named after her, and that meant that she carried good blood on her. As they both drank their coffee, she slid the glossy magazine towards her granddaughter. The young girl's eyes studied the cover, she lifted her brow at her as if waiting for her to say more.
"What do you think?" Marie asked.
"Gorgeous as ever grand-mère. But is this why you asked me to be here?"
she asked curiously.
Marie looked offended at the question, but at the gleam in her granddaughter's eyes was enough for her to know she was joking. Marie was relieved when Tess was born, and it seemed she was the only one in the whole Holmes family to do so. A girl born into the family after 300 years was a blessing in her book, and like Tess, she was the youngest of two, knowing what it meant to be the spare. Mycroft was a good boy, smart, but she didn't have a close relationship as she did with Tess, who was more of a sensitive soul. While it sometimes annoyed Marie, she took it in stride, at least being grateful she was born a beauty. Waving off the question she went into business as she had planned.
"Darling, I would never...well kind of. What if you were in the magazine company? I think that you would make a marvelous assistant, work in the business I created and get away from those stuffy dungeons."
"I....I like the stuffy dungeons, and I adore potions you know that"
Leaning towards her, she grabbed Tess' face softly and frowned.
"Your beauty shouldn't be wasted, instead take pride in it and show it off. Imagine you on the cover, imagine you taking over my empire one day, wouldn't that be amazing? Get away from your father who wouldn't know fashion, or your mother that is just a follower and instead create your own gowns, fashion shoots, articles to expand your mind and your followers. Oh my cherie, you would be grand"
Tess smiled, her cheeks reddening considerably at her word and lifted her own hand. The girl was about to reject her, that much was clear, and Marie was ready to pout to get her way.
"I love you...but I'm not meant for glamour that way. I'm not you, and I am my father's daughter, I love business and potions and power in the ministry. But...But I can help as an intern if you truly need me there. I can go once in a while if I get permission. Would that be okay?"
Well didn't she surprise her? Marie's eyes brightened and kissed both of her granddaughter's cheeks. She was more demonstrative being French and the fact it was her favorite child.
"You are a treasure, but come now, I'm not here for business I'm here to spend time with you"
Tess laughed and soon enough, they were talking about anything and everything, and Marie enjoyed herself, despite being in Hogsmeade.