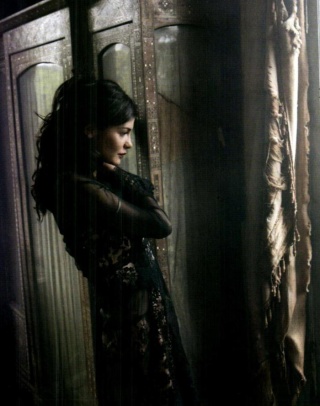 Full Name: Allegra Maya Montez
Birthdate: 15.October
Age: 15
Country of Origin: Mexico
Current Home: San Miguel de Allende, Mexico
General appearance: (hair, eyes, skin, height, body type, etc) Allegra is already quite tall for her age at 5'6, has an athletic figure and is quite tan from spending her days running around in Mexico City. She has her mothers brown eyes and also has their dark brown hair. Looks stunningly like her sister, but obviously doesn't know it.
Special Features: Pierced ears and her left helix is pierced.
Blood purity: Halfblood
Sexual alignment: Bisexual
Wand Type: Desert-Willow wood with a veela hair core, flexible, 8 inches
Personality: Allegra is a very confident person, indeed she can come off as a bit overwhelming at times, but she doesn't mean any harm by it. Self-Love is very important to her and every chance she gets she encourages it verbally or by example; Allegra is unapologetically herself. She's very close to nature and it shows in her gentle and respectful manner towards it.
A loyal and fiercly protective friend, but not afraid to put her foot down when she feels it necessary. The young girl knows how to keep her cool in difficult situations and takes secrets to the grave. Regarding her interests, she loves her garden and tending to it, she is politically active as much as she can be and does a lot of local voluntary work. Allegra absolutely adores music and feels most inclined to 80's and 90's punk given its political nature. But her general taste is varied. She can play the guitar and sing, nothing very out there talent-wise, but she sounds good enough to listen to if one wishes to. Allegra also loves to dance.
Background: Raised by her loving parents Alma and Raphael Allegra never lacked love or affection. They weren't the richest or family's but they were safe, stable and didn't want or need luxury. The entire family is very close to nature, which is strongly reflected in their lifestyle. Their home is on the outskirts of Mexico City, a three bedroom house of white clay surrounded by whatever flora can bloom in the heat of the desert.
A typical weekend in the summer for them would be eating together early in the morning, then Raphael would garden until midday whilst Alma and Allegra played soccer in front of the house with whatever neighborhood children wanted to join in (Allegra's quite talented). Then they'd eat a small meal and while her parents rested in the cool house, Allegra would be in her room reading for school or tending to the magical plants she kept in a terrarium in her room.
Until this year, Allegra had attended the local wizarding school, not a boarding school, in Mexico City, but her english is equally fluent having grown up bilgingual.
She also grew up similar to muggleborns, since her mother's a muggle and her father's a squib.
She has a familar; a chihuahua named Lupa.
There is one thing about the family that sticks out. They have an empty bedroom in their house, that holds a few photos and baby clothes and toys, in which they light a candle every year for the daughter they'd had to give up. They call her Sofia. But to herself and the rest of the world her name is Marilyn Caldwell.
Family: Mother: Alma Montez née Cortez / Age:41 / Living or dead: Living/ Blood status or species: Muggle
Father: Name:Raphael Montez / Age:42 / Living or dead: Living/ Blood status or species: Squib
Siblings: (if applicable) Name: Marilyn Caldwell
born
: Sofia Valeria Montez/ Age: 20/ Living or dead:Living / Blood status or species: Halfblood witch
Pet: (if applicable) Name: Lupa/ Age:10 / Living or dead: alive/ Blood status or species: Chihuahua, female
Family Background: When the squib Raphael and muggle Alma realized that they were pregnant they felt torn. Of course, being as in love and happily married as they were, despite their young age of twenty-one, a child Born of their love was welcomed warmly. But they were in a dodgy area of town, in the heart of poverty, Alma being born in it and Raphael shunned by his family at a young Age for being a squib.
They knew realistically that they couldn't possibly provide a promising future for their daughter, but they tried. The first six months they tried, but the couple knew they couldn't provide for her, for their beloved Baby Girl whom they adored so, so much already. Alma sang to her every night, Raphael told her stories of old and new. The two reveled in their bündle of joy. It broke their heart the day they had to give her to the Hospital nearest to them, not even leaving her Name, wanting her to begin with a clean slate.
What they couldn't have known was that their luck was about to Change. Months passed and at the end of the year, five months after giving her up to Adoption, Raphael started a steady Job and Alma was soon promoted from a generic secretary at a budding firm, to Assistent floor Manager. Their life became stable and grew on ist new foundation. Giddy at the prospect of providing a life after all they rushed to the Hospital to Claim their daughter only to find she'd been adopted.
It was like losing her all over again. True, they could try to find her, but she'd be nearly one now, she'd be adjusted. They didn't want to selfishly rip her from her new home.
And so they left their Information at the Hospital should she ever want it and had to be Content with simply lighting a candle on her birthday every year in the small room in their new home that they kept for her, never losing hope that someday perhaps she would return.
That candle burned every year, December fifth, for their lovely daughter; Sofía Valeria Montez.
As the fates would have it, five years later they had another daughter, Allegra Maya, who was as warmly welcomed as a girl could be with such loving and ecstatic parents. They refused to lose two daughters, not to mention that now their life was stable and well enough off to not have to worry about the costs of a child.
Instead simply giving her a warm, accepting, open and loving home to grow up in, but being careful not to shelter her too much. They took her to demonstrations when she was old enough and taught her the value of civil rights and to always stay loyal to your cause. Allegra knows how poverty is vast in her country and greatly appriciates how lucky they are.